Obituary for Arthur Dickman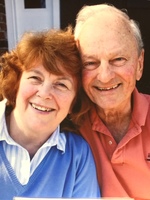 Deacon Arthur J. Dickman, 79, of Somers, CT, passed away Friday, January 5, 2018 surrounded by his loving family. Arthur was born on May 16, 1938 in Staten Island, NY, the loving son of the late Arthur Joseph and Anna (Powers) Dickman. He graduated from St. Peters High School on Staten Island and St. Peters College in Jersey City in 1959 with a BA in Philosophy. Arthur proudly served our Country in the U.S. Army Reserve, 76th Division, where he retired as a Lieutenant Colonel. He worked for many years at United Technologies as a Human Resource Executive and later retired from Horton International. Deacon Art was ordained a Permanent Deacon and served at Holy Family Church in Enfield, CT and Assumption Church in Manchester, CT. Art, along with his beloved wife, Anne were founding members of Holy Family Church where he served as a lector, CYO teacher and basketball coach. Arthur was also a member of the Knights of Columbus and served on the Board of Directors of Western New England College. His greatest joys in life were spending time with his family and friends and serving in his church ministry. Arthur was predeceased by his beloved wife, Anne (Wabo) Dickman in 2010. Arthur is survived by four children, Kathleen Atler of Tuszon, AZ, Arthur Dickman and his wife, Joline of Enfield, CT, Christopher Dickman and his wife, Wendy of Portland, CT and Peter Dickman and his wife, Johanna of Ellington, CT; a sister, Joan Froehlich of New Jersey; and three grandchildren, Elyse Atler, Catherine Dickman, and James Dickman. Art's family would like to thank the staff at Johnson Memorial Hospital and Evergreen for the care and compassion given to him. Friends and family are invited to gather for calling hours on Tuesday, January 9, 2018, at Holy Family Church, 23 Simon Rd, Enfield, CT 06082 from 4:00 - 7:00 p.m. A Mass of Christian Burial will be held on Wednesday, January 10, 2018, at 10:00 a.m. at Holy Family Church. Burial will follow at St. Patrick's King Street Cemetery, Enfield, CT 06082. Memorial donations in Arthur's memory may be made to St. Vincent DePaul Society, Holy Family Church, 23 Simon Rd, Enfield, CT 06082. For more information or to express online condolences please visit, www.Leetestevens.com.
Affiliations

US Army Reserves
The insignias listed here may be subject to copyright and / or trademarked. Those copyrights and trademarks are owned by the respective organizations.